4
min read
When considering applying to the ERC, PIs must be aware of the restrictions that may apply to them based on the outcome of previous submissions or – should their current application be rejected – apply to future submissions. Such penalties are essentially 'blocking periods' in which a PI cannot reapply to the ERC. These blocking periods typically apply to 1 or 2 consecutive deadlines of the relevant ERC call. Such restrictions are put in place to deter applicants from submitting non-competitive proposals and overburdening the evaluation system, but also to allow unsuccessful PIs the necessary time to develop a stronger proposal and/or strengthen their track records. In this article, we'll thoroughly discuss how the ERC Blocking Mechanism works. Keep in mind – this article does not discuss rejections on the grounds of a breach of research integrity, which are typically more severe.
An overview of the ERC blocking mechanism
The ERC blocking mechanism applies to all ERC categories (Starting – StG, Consolidator – CoG and Advanced – AdG), as well as to the ERC Synergy Grant (SyG), which we will describe further below.
First, it is important to note that the year of an ERC call for proposals refers to the Work Programme year under which the call was published and not the calendar year of the deadline. A 2024 ERC call is one that was published under the 2024 ERC Work Programme, and this will be indicated in the call identifier (e.g. ERC-2024-StG). This is especially important in the context of the StG and SyG calls, which typically have deadlines in the end of the year preceding the work programme year (i.e. ERC-2024-StG deadline is on Oct 2022).
A second important note is that the rules for these restrictions are officially published for each call when the Work Programme of the relevant year is published. While the rules do remain comparable along recent years, it would be important to revisit the rules for each year when they are published.
How does the ERC blocking mechanism work?
To illustrate the blocking mechanism, let's take for example the call year 2024. Let's look into restrictions that will apply for PIs who currently have an active ERC grant or those that have applied to the ERC 2022 and/or 2023 StG/CoG/AdG/SyG calls and were rejected. Researchers who did not apply to these calls in 2021 or 2022 and do not have an active ERC grant, may apply to the ERC 2024 calls with no restrictions (considering all other eligibility criteria). Accordingly, if applicants apply to one of the 2024 calls, their eligibility to apply to the 2025-2026 calls may be affected by the outcome of the evaluation.
Researchers with an active ERC grant are restricted because a researcher may participate as PI in only one ERC project at a time. Thus, such researchers may not submit another proposal for a main ERC grant, unless the existing project ends no more than two years after the call deadline; This "2 years or less" rule allows for enough time for the current grant to end before the potential new grant can begin.
In the 2024 work program, a new restriction has been added which is in line with this: A PI whose proposal has been selected for funding and is preparing a grant agreement under a 2023 ERC call, may not apply for a Starting/Consolidator/Advanced Grant under a 2024 ERC call.
For rejected StG/CoG/AdG applications, the general rule is that a score C in the first stage of evaluation implies a restriction for two consecutive deadlines and a score B implies a restriction of one consecutive deadline. Proposals that passed to the second stage will not be restricted from resubmitting. As of the 2024 work program, proposals that are scored A, whether they pass to the second stage of evaluation (i.e. "A invited") or not (i.e. "A not invited") will not be subject to restrictions. Notably, the restrictions apply across categories (e.g. a rejected StG application may imply restrictions even if the PI must now apply to the CoG call). Additionally, restrictions are on a personal basis, so they apply to the PI, not the project.
The following figure illustrates the possible restrictions for the personal categories in 2024 and 2025 considering the outcomes of the 2022/2023 calls. Naturally, for applicants submitting to one of the 2024 calls, eligibility to the 2025-2026 calls may be affected, pending on the outcome. In addition, it should be noted that a score C in the first stage of evaluation of a 2022 or 2023 SyG application will block application to SyG 2024.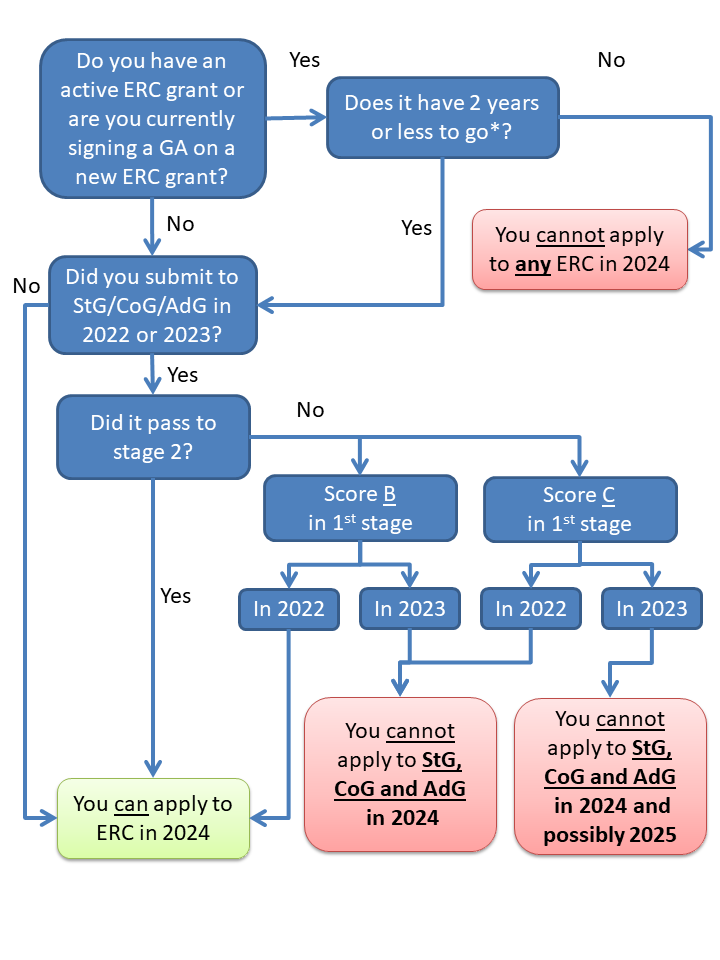 (*) more than 2 years to finalize the current project, with respect to the relevant call deadline.
Unique ERC Synergy restrictions
We've discussed restrictions resulting from, and related to the personal ERC categories. Now let's discuss the restrictions related to the ERC Synergy call which are slightly different.
First, restrictions only apply for PIs who were part of an application which was rejected in the first stage of evaluation. If the proposal passed to the second and third stages, no restrictions apply. Second, restrictions only apply to resubmission to the consecutive SyG calls. Specifically, score C in step 1 of the evaluation applies a restriction on applications to SyG, for two consecutive work programmes.
Our recommendation is therefore to bear these restrictions in mind and:
Make sure you are indeed eligible to apply and no restrictions apply to you based on previous submissions.
Carefully and honestly assess whether you are applying with a competitive proposal, taking into account the potential restrictions in case the application is rejected.
A note about submitting two ERC applications on the same ERC WP – same 'call year'
Only the first eligible application is evaluated, which means there is no point in working on two applications under the same Work programme . This is relevant for applicants that wish to be part of a SyG application and submit an individual (StG, CoG or AdG) grant themselves. Though this is not directly related to the blocking mechanism, it is important in this context in order to avoid potential disqualifications of more than one application that was submitted under the same WP.
If you need any more assistance with your ERC application, we offer a Go/No-Go service, as well as additional ERC consulting services (Standard or Deep Dive) to guide you through the application process.